Sunayama

Umi wa araumi
Mukou wa sado yo
Suzume nake nake
Mou hi wa kureta
Minna yobe yobe
Ohoshisama detazo

Kurerya sunayama
Shionari bakari
Suzume chiri jiri
Mata kaze areru
Minna chiri jiri
Mou daremo mienu

Kaero kaero yo
Gumiwara wakete
Suzume sayonara
Sayonara ashita
Umiyo sayonara
Sayonara ashita

Lyrics: KITAHARA, Hakushu
Composer: NAKAYAMA, Shimpei
in 1923
Sand dunes
The sea is rough.
It is the island of Sado to be seen over there.
Sparrow, it's better to scream.
It has been dark already.
Call everyone, call,
A star has come out.
When the sun goes down, the sand dunes is
The tide is only ringing.
The sparrow gets scattered and
The wind is also getting rough.
Everyone is scattered,
No one can see anymore.
Let's go back, let's go back,
Leave the field where Elaeagnus is growing.
Sparrows goodbye,
See you tomorrow.
Goodbye to the sea,
See you tomorrow.
utasuky
"Sand Dunes." This song depicts the scene of a Japan Sea beach on the verge of harsh winter, with rough waves approaching.
As dusk sets in, the voices of children bidding "goodbye" and "see you tomorrow" overlap with the chirping of sparrows.
The poet KITAHARA Hakushu once said,
"I watch sparrows. Always watching. Not just watching, but always being with sparrows, flying and chirping along with them."
Visible beyond the sea is Sado (or Sado Island), viewed from Yoriihama in Niigata Prefecture, the setting of this song.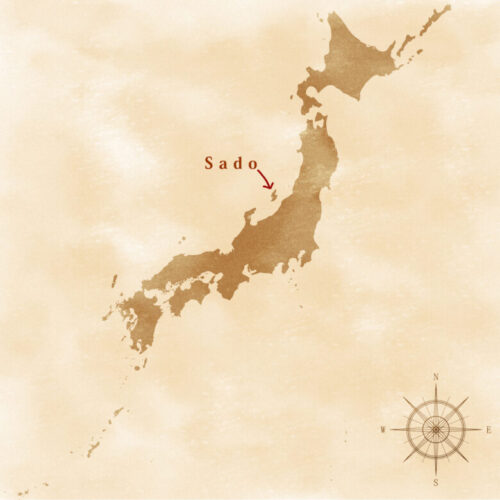 Sado, once prosperous with gold and silver mines, like the juniper plains of Silverberry field, a famous spot in Niigata Town as a sandy coast during the Edo period, gradually faded into obscurity with the passage of time. Perhaps this song, too, might be unknown to the youth of modern-day Japan.
Kitahara Hakushu, a famous poet who wrote the lyrics, is said to have stayed on the beach of "Yoriihama" and gained an image leading to the poems of Sunayama. This place is also loved by Sakaguchi Ango, a novelist who represents modern Japan.
Yoriihama @ Niigata Prif.